Home » Destination Fiji » Vanua Levu (Savusavu & Labasa) »
Savusavu Accommodations
Daku Resort
Most of the Vanua Levu accommodations are clustered around Savusavu, the largest community on the southern side of the island.
Daku Resort, a mid range property I'm very fond of has a wide variety of activities at a modest price. Situated in a former coconut plantation by the sea (about 20 minute walk from town) they cater to the mid-range demographics including families, couples, groups and long term guests who need cooking facilities. They also run various holiday courses throughout the year – yoga is a big one and they have built a yoga platform with lovely view out over the bay.
There's also singing (when the groups visit the local village choirs), writing, painting and bird watching.
Their 'Paradise Course' series ranges from painting, yoga, snorkeling and bird watching. The various disciplines combine cultural activities such as village tours with what course director Delia Rothnie-Jones calls visits to "wellness-inducing" local nature spots. These include waterfalls, thermal (mud) bathing pools. Some of the pools are used by traditional healers known as vuniwai, to scoop up gritty organic mud for an exfoliating scrub. 
They are well plugged in to local activities and will arrange a visit to Nadamole village (with its healing pool), tapa (traditional bark cloth) decorating sessions, talks on the many uses of the coconut in Fijian culture, trips to nearby waterfalls and even a drive up into the jungle to see the hot springs at Nakabolou.
And their own masseur is a real gem – enjoy an hour of bliss under his hands either in your own bure or up in the yoga space. Finally consider a tour of Waisali, a Fiji Trust nature reserve located about 30 minutes from the property. It's the rain forest home of an endangered frog and other species.  If you've never been in a rainforest this is the ticket.
They offer a range of types of accommodation starting at US$125 for ocean view bures (F$285); a Beach House villa that can handle a family of four or five(US$335 / F$690); a renovated Pool House that can sleep up to 11 (US$355 / F$735) with four bedrooms, four bathrooms, lounge, kitchen and a large covered deck; and four Bayside luxury villas each with two bedrooms, bathrooms, kitchen and lounge and its own private swimming pool (Garden Villas US$380 / F$780; Bayview Heights Villas US$425 / F$880). Most of the units have air conditioning, view bures (sleep 2); and three double bures that can handle up to 6 people. Daku also has 2 villas with 3 bedrooms (Villa Hazel US$470 / F$973; Infinity Villa US$560 / F$1060).
I stayed in one of the Bayview units, a two-room,  self-contained bungalow with an ocean view. The rooms were enormous.  Just watch your step, there's a rather long staircase. (Not recommended for the infirm).
The Copra Shed Marina, although primarily a business center, also has three double occupancy rooms available. All include large, clean bath, TV and phone. They are clean, modern and especially handy if you've got a nearby yacht. Two of the units go for F$165 and the third for F$130.
Price includes full breakfast at the nearby Captain's Cafe for up to two people. Only difference with the least expensive unit is that it doesn't have the sea view.  Ask for Dolly or Lewa for more information. Tel: (679) 885-0457 or reach them at coprashed@connect.com.fj
Tavola Fiji
What about higher end Vanua Levu accommodations?
Tavola Fiji was one my more pleasant discoveries during a recent visit to Savusavu.
Tavola Fiji was recently purchased by Monica Laurence, an American with a creative flair. In essence, she's turned a property that was formerly ignored into a very appealing boutique hotel. The magic that she's pulled off sounds simple, but it's not easy to achieve.
She's transformed her hotel into something that feels like a home. (The moniker Tavola honors the medicinal Tavola tree of Fiji, as well as the Italian phrase "a tavola" meaning "family table").
Located on eight acres, with panoramic views of Savusavu Bay, Tavola is about 2 km from "downtown" Savusavu but feels far off the beaten path. The property stretches from the seaside, up a hill to a playing field-sized plateau that serves as a helicopter pad.
The vista from the front deck, and just about everywhere on Tavola, is stunning.
The property is perched on a hill overlooking Savusavu Bay. The estate, which she describes as a Villa, consists of seven buildings on two levels. The upper level consists of a kitchen/dining room, a lounge (complete with a library) and a separate master bungalow and sun deck with an infinity pool. The bungalow is inordinately spacious with dual sinks, dual closets and no less than two showers (indoor and outdoor). You're not going to feel claustrophobic in this unit. Another nice touch is the outdoor dining table and several hammocks.
The resort was designed by Australian architect Madeleine Blanchfield and it was constructed with an abundance of local hardwoods which give the place a sort of opulent minimalism. It looks like someone built it to last. Someone with taste—who could obviously afford a decent architect. It's classy and ideal for wellness or yoga retreats, coaching retreats or hired out for family reunions.
The lower level consists of two bungalows each with a bedroom, lounge and bath. Each bath has a rainbath shower and separate toilet. As the website says, "the lounge is perfect for your creative endeavors" or can be configured for sleeping. So essentially each bungalow can be configured as a sort of suite, with either two single beds or a king size bed. The bungalows open to an ocean-view private veranda.
The Villa can accommodate 6, or 10 if you decide to turn the lounges into bedrooms.
The food is top notch and very healthy. The chef has great culinary sensibilities and isn't afraid to try something new.  We had fish on a regular basis but cooked in several different ways as well as a number of salads. As a local guy, he would also incorporate local touches by cooking Fijian vegetables such taro leaves (roro) or make Kokoda, Fijian style ceviche (with coconut cream).  Desserts were great too and we often had cookies. I would say the cuisine here is as good or better than the 5 star properties.
Activities include Infinity pool, Kayaks and snorkeling, Hiking, Bocce ball and croquet, trampoline and rope swings. What really impressed me, as a yoga practitioner was an ample supply of yoga mats and blocks. Excursions to local places of interest such as the KokoMana cocoa plantation, or diving at the nearby Cousteau resort can also be arranged.
The property also offers week-long consciousness and wellness retreats called Stillness (stillnessfiji.com) in February and October. My take is that this would be ideal for an angst-addled executive or perhaps a couple needing to invest some quiet time in their relationship.
The owner, Monica, had the good fortune of having an uncle who owned a hotel in Fiji where she spent a great deal of time as a youngster. She feels that this experience has helped her understand what it takes to run a resort in Fiji.
The property occupies an interesting little niche in the spectrum of Vanua Levu establishments. It inhabits a space in between the very expensive hotels such as Namale and the more modest end of the spectrum such as Daku. There's an intimacy at Tavola that you won't find in a large resort and that's one of the reasons I find it so attractive.
Namale Resort
Namale Resort, located 10 km from Savusavu on Vanua Levu (Fiji's second largest island) has been a coconut plantation since the 1860s. Tradition has it that the land (which is now a 525 acre estate) was originally purchased from the Fijian Chief Tui Na Savusavu for 10 guns. The property accommodates a maximum of around 44 guests at a time in 15 large bures and five large villas—the Bula House, Rosi, Duavata, Civa and the (two bedroom) Tatadra House. Many of the bures are built adjacent to huge volcanic outcroppings and sculpted to fit into the landscape. Honeymoon Bures offer incredible ocean views over the Koro Sea and include Jacuzzi bathtubs, heated plunge pool and an ocean view from your oversized bed or sofa.
I stayed in an Ocean Bure called Jeri (Jerry) about 50 meters from the restaurant. It was cozy, with an enormous polished wood floor that offered plenty of room to do yoga. It faced the sea (maybe 15 meters away) so that I was put to sleep by the sounds of the ocean lapping up against the shore. All of the bures were surrounded by vegetation and enough distance from each other to offer privacy.
Food is a big draw at Namale. The cooks are all local and have been trained at a very high standard. The menu rotates on a weekly basis and depends upon what is available in the way of produce and meat/fish.  A typical lunch menu could include a papaya salad, roti pizza (an Indian/Italian infusion), beer battered local fish (either snapper or wahoo) and perhaps avocado toast (from their own farm of course).
You're not going to be disappointed with dinner either. I happened to be there on a buffet night that included lamb, beef and wahoo. There were four different salads including ota (fern) with lolo (coconut milk) which is a delicacy you don't often get in a restaurant because the fern is harvested in bush.
From day one Namale has been a big proponent of farm to table, before it was chic. They currently have over four acres of land dedicated to growing fruits and vegetables of every stripe—citrus such as oranges and limes, leafy greens (lettuce, cabbage and bok choy), kumala aka sweet potatoes (purple and white), watermelon, cucumbers, papaya, bell pepper and herbs. They grow more than enough produce to feed their guests and their staff. Suffice it to say, it's all organic.
When I visited the farm I noted a row of bok choy that was clearly not doing well and questioned the head gardener. She sighed, "Yes, fungus is a problem so we need to replant this elsewhere and put something else in the ground".
They also source seafood locally whenever possible. There's no shortage of fish but prawns and scallops need to be imported from outside Fiji. (Likewise with beef and lamb).
What differentiates Namale from the other properties on Vanua Levu is that this is an adults-only (age 16 and over) venue. It's all inclusive, meaning food, transfers, room service, dine outs (romantically themed picnics), beverages (including alcohol) and activities (except scuba and spa treatments) are included in the tariff. Wi-fi is also free of charge throughout most of the property.
The owner of the resort is Tony Robbins, a well known American motivational speaker, writer, and business coach, famous for his "infomercials".  
There is a sandy beach (which I understand Mr. Robbins had constructed) with a nearby "swimming hole", the size of an Olympic sized swimming pool, surround by reef pool. The beach is quite isolated and bounded by the owner'sprivate home and a cove that leads to Namale's private marina. There are ample deck chairs and hammocks strung between trees.
Situated a few meters from the shore, the property is large enough to provide numerous hiking trails that visit a waterfall and traverse a rain forest. Other amenities and activities include private dining on one of eight decks overlooking the ocean, two Jacuzzis and two pools, horseback riding, tennis, diving and visits to the local Fijian village. Duffers will enjoy a nine hole (par 3) course, with drving range and small putting green. 
The cuisine is excellent with a great wine collection to augment the fresh seafood and other dishes. (Read more in our blog )
There's a 10,000 square foot spa on a cliff with a fantastic view overlooking the Koro Sea. There are a series of pools of various temperatures and a cold plunge. The spa pools are all available to guests and if you want special treatments such as hdyrotherapy or massage, they are available from the specially trained staff. Let's not forget the Fitness Center, which consists of a very well equipped gym, with free weights, exercise ball, rebounds, and multiple exercise machines. 
There's also a handy recreation room called "Kava Bowl" with comfortable sofas, fluffy pillows and a two lane bowling alley. There's also an Indoor basketball court on the grounds.  
Executive Coach Marc Carignan, a guest from San Diego, likened Namale to the Four Seasons hotels as a benchmark. It was the "best of the best" in his experience. He liked his accommodations, Tatadra Villa, which had two private bedrooms with private hall, polished hardwood floors and airy ceilings. He said it had a "minimalist but tropical and stylish Fijian motif." 
The resort has received a host of accolades over the years, most recently in Conde Nast and Islands Magazine, Rates start at about US$1299 double occupancy for the "Tropical Bure" and go up to $US2700 for the "Tatadra House ".  (Both tax inclusive).
Jean-Michel Cousteau Fiji Islands Resort
Jean-Michel Cousteau Fiji Islands Resort, located a 15 minute ride from Savusavu and is located on Lesiaceva Point, a ten minute taxi ride from town. 
The resort offers 25 spacious, Fijian style bures, situated on 17 oceanfront acres. All bures have king and day beds, a large, tiled bathroom with heated towel racks, and private decks. While the bures are spaced somewhat close together, beautiful tropical foliage shields each bure from the other; however, if there are babies crying or children are in the midst of a meltdown, you will hear it. This is not a place for those seeking Robinson Crusoe solitude.
Management refers to the resort as "full-service" and caters to a wide range of travelers – active couples, families, soft-adventurers, snorkelers and divers. Separate pools for adults and children.
Activities for kids are provided (unusual for an upscale property in Fiji) with the 'Bula Club', Lei Lei Holiday Programs for children up to 7 years old and the Marau Holiday Program for kids 6 to 12.
Live Fijian music is performed in the evenings, outstanding 12 string guitar and ukelele, and there's an open-air restaurant with local and international dishes prepared with many ingredients from the resort's organic fruit and vegetable garden. Separate dining areas for families and couples assure a pleasant dining experience.
Meals can be taken in your bure, under a private thatched roof covered table next to the sea or, reserve an exclusive table at the end of the pier for truly romantic dining. Typical menus include homemade soups, fresh salads, a choice of a vegetarian, fish or meat dishes, and desserts made daily by the resort's pastry chef. (I had an amazing seafood curry the last time I was there).
The resort's children's club deserves special mention.
The Bula Club experience begins the moment a family arrives on the property. Upon completion of check-in, nannies or child activity directors introduce themselves and present the children with an opportunity for immediate play or discovery. With few exceptions, children gleefully and immediately quit their parents and only return for naps and sleep. Teenage children can find plenty to do here as well, learning to dive or exploring the reefs and ocean, but the program is not geared to this age group.
Dive Notes: Jean-Michel Cousteau, himself, and his associate, Don Santee, oversee the resort's dive operation. As one would expect with such a pedigree, the resort's dive boats, dive shop, and dive educational programs are par none. Nitrox is available as is every known tourist PADI dive course. The dive sites immediately surrounding the property are on the relative Fijian grade of good, but they're not fantastic. However, twice a week, the resort ventures out to the Namena Marine Reserve to dive the best reefs in Fiji. 
Prices start at FJD$ 2,175 a night for the garden view bures (including tax) and go much higher for the villa. Price includes all meals and bottled soft drinks, milk and juice (excepting specially prepared mixed non-alcoholic drinks (milkshakes and the like), alcohol drinks, laundry, and room service). Most activities, like tennis, sailing, swimming, rugby, hiking, weaving, snorkeling, guided walks, and village visits are free. Fee activities include massages, babysitting outside the 8 am to 9 pm window, scuba diving, sailing boat charters, kayak trips down a river, reserving an island, deep-sea fishing, mountain biking, town trips, a pearl farm tour, and private snorkeling charters. Children 12 and under stay free.
Koro Sun
You could label Koro Sun as "conventional" by American standards and in some ways you'd be right. It's family oriented, it's big and there are amenities (such as child care facilities) that are synonomous with larger resorts that Americans feel comfortable with. However calling it conventional is only part right. There are some cool, quirky things that differentiate it with the pack. (We'll get to that later).
The latest edition to their accommodations is the (adults-only) Edgewater Bures with Fiji's only 'Floating Bures'. I don't think they really float, but they are cozy and comfortable. My rear door opened up to a small deck, on the water of course. It's on a lagoon, where you'll continuously see fish jump. No sounds of the ocean but you can hear the crickets chirp at night which is about as much racket as I want to hear.
Diving of course, is world class and the (Koro Sun-based) Namena Divers will make sure you see both reef and pelagic life at the famous Namena Marine Reserve. FYI it's also a great place for snorkelers too.
Hit with a mysterious paralysis in her twenties, Leba managed to heal herself based on the lessons that the older woman drummed into her. During the walk she explains the uses of local plants such as coconuts, noni, bosucu (a vine used to heal open wounds), totodro (a type of ground cover used for skin and stomach ailments and colic) and batimadramadra (a leaf for repairing bone cells or curing a cold).
Savusavu Hot Springs Hotel
Savusavu Hot Springs Hotel, in the midst of "downtown Savusavu, is a budget property, now under new management. They are in the midst of upgrading their 48 rooms. It's within easy walking distance of restaurants and the Copra Shed Marina. I've spent many a night at this hotel and bang for the buck it's a good deal.
Rooms have queen beds with additional singles on request, tea/coffee making facilities and refrigerator. Connecting rooms are also available which is handy for families. Two self contained single or double bedroom apartments are also available at weekly or monthly rates. Each room has a private bathroom, tea/coffee making facilities and a refrigerator. Some feature air conditioning, kitchenette facilities, a lounge area and a bathtub. Prices begin as low as US$73.
The property is popular with local business travelers and those visitors not needing the lap of luxury.
Naveria Heights
Naveria Heights is located just outside of Savusavu town, on 2 acres of lush tropical gardens. Perched a hillside, it has spectacular views and sunsets over Savusavu Bay and mountains beyond.
The property has three guest rooms with great views. Each has private en-suite bathrooms, A/C, king or queen size beds, hardwood floors and are tastefully decorated. French doors lead to a private sun deck where you can  relax on the loungers or a hammock.
They offer extensive hiking and mountain-biking adventures into remote parts of the island which include village visits, rainforest treks waterfalls, great biking trails and a  hike to a waterfall.  Snorkeling is available on the reef below and kayaks can be hired in town.
Free local transfers are offered to guests from the airport or ferry.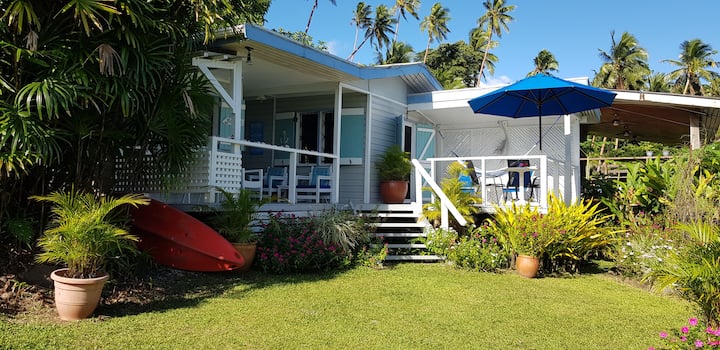 Bayside Bure
I've heard great things about Bayside Bure, a rental cottage located on Lesiaceva Point, a 6 km, 10-minute drive from town. It's situated on the rim of Savusavu Bay, close to the Jean Michel Cousteau Resort.
A self-contained studio, the cottage comes with a screened bedroom/living room. It has two single beds which can be combined to create a King for couples.
The owner tells me that guests "wake to the sound of chirping birds in the morning" and have the option to choose from either a covered deck (in front of the kitchen) or an open sundeck adjoining the bedroom to listen to waves break on the shore or dig into a good book.
There's also a Walesi TV station as well as Netflix (with guests own login) and Youtube.
Both decks are also idea for alfresco dining.
Facilities include a "compact kitchen" separate from the bungalow which opens onto a covered deck with picture window vista of the Bay. The kitchen has fridge/freezer, full stove, electric frypan, microwave, toaster, hot water jug, blender, sandwich maker, crockery and cutlery. The pantry provides the basics such as salt, pepper, sugar, tea and milk along with cleanser, toilet paper and soap.
I'm told it's a serene place to relax. There's an occasionally seaplane to observe landing at the nearby the Cousteau Resort jetty or if you're lucky, you'll see pods of dolphins or whales frolicking in the Bay. From May to November, during yachting season you can watch the boats come and go.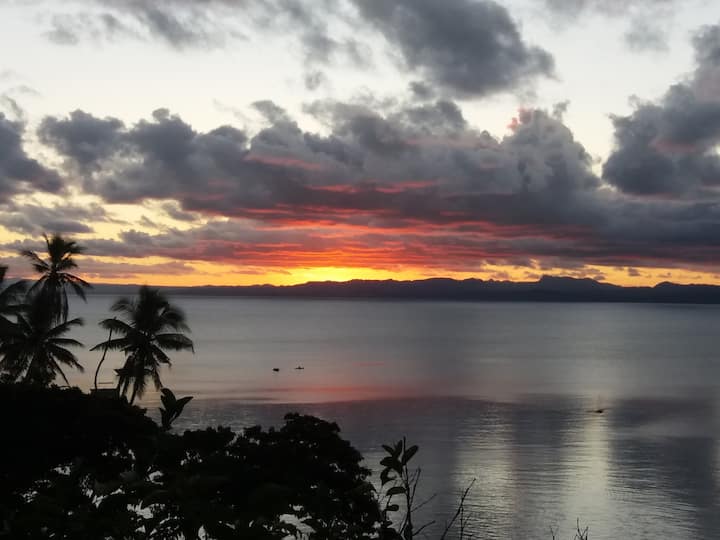 Snorkeling is excellent right in front of the property and even better at the Split Rock area which is close by. If you're a diver, Cousteau's operation is next door.
Price is US$75/night double occupancy and minimum stay is three days. It's an Air B&B accommodation and the local owner suggests that's how to reserve the unit.
Hans Place
Just outside of Savusavu (between town and the Cousteau Resort) is Hans Place run by a fellow who formerly operated the Bula Bookshop at the Copra Shed Marina. There are two self-contained units with kitchenette, living room, bedroom (with double bed) and bathroom (with shower and toilet). Located about 250 meters from the sea, these are small units, more suitable for couples or a single person rather than families. The lush garden appears to be well maintained. Rates start at F$700- weekly for the "Yasiyasi" and F$ 800 weekly for the "Yaka" unit. Amenities include a covered deck and DVD/CD Player with TV and free Wi-Fi.
La Dolce Vita Holiday Villas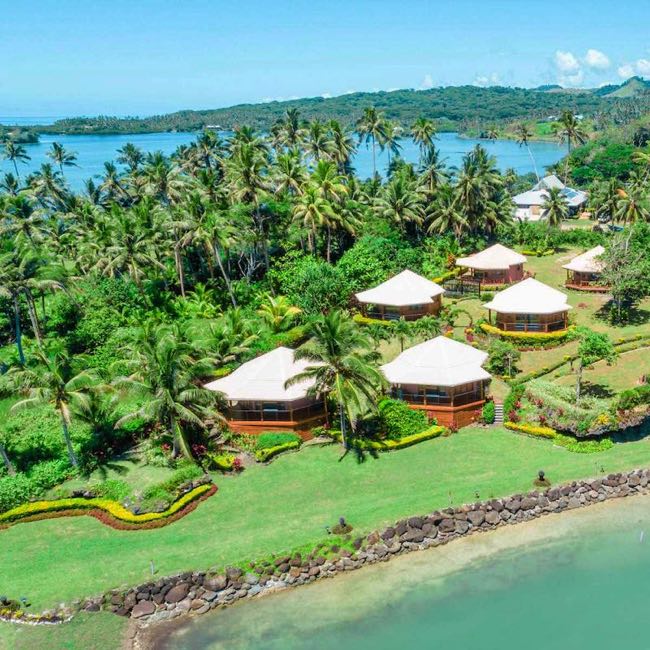 I've heard good things about La Dolce Vita Holiday Villas, which is described as an eco-friendly, 24-hour solar powered resort, with a low carbon foot print and all the essentials you expect in a luxury resort, without the crowds.  (They have had good reviews from Trip Advisor).  Located 25-minute drive along the Hibiscus Highway From Savusavu airport, it's a boutique property with 5 bures decorated (in their words in 'Island Italian' style. . They specialize (as the name of the property suggests) in gourmet quality Italian style food. They concoct all variety of hors d'oeuvres, cookies and desserts. Breakfast and dinner are included in La Dolce Vita's rates. Lunch is available for an additional fee. Activities include a visit to the waterfalls and diving on the rainbow reef, paddle boarding, kayaking and snorkeling. Prices start at around $400 per night for a bure.
Savasi Island Resort
Savasi is one of the newer resorts in the area. It's about 10 minutes from Savusavu up the Hibiscus Highway in a rather exclusive 'neighborhood', just down the road from Namale.
What's a bit unusual about the property, is that it's located on a 52-acre island, just offshore from the highway. Access to it is via a private bridge. The resort is constructed on a craggy outcropping, with several private beaches.
Savasi is very much a boutique property. It has ten well-appointed villas, all with wonderful seascapes. Calling them villas is not a flight of fancy. They are huge. Guests staying in them have said it's like having your own home rather than a hotel room. All are surrounded by vegetation and landscaped so that there's privacy. All the accommodations, except for the beachfront bure, have their own private pools. Wi-Fi and air-con are standard.
In addition to the Villa accommodations, there's also a 140' three-masted schooner, the Serenity, which is permanently docked in a narrow channel just steps away from the island. The vessel, which has five luxury split-king staterooms spanning two levels, was formerly the Tui Tai.
This happens to be a boat I knew very well in its earlier incarnations in the Mamanuca Group and later in Vanua Levu. It was put out of commission after a cyclone and found a final resting place, not to mention a new identity, at Savasi. I thought it was a very ingenious move on behalf of Savasi management to upgrade the Tui Tai and give her a second life.
If you stay on the boat, you'll be able to partake in the rest of the property  as well as the Serenity's cinema room, conference facilities and lounge, bar and dining room. The upper level also offers a sun deck with a jacuzzi and outdoor bar. You can even hire boat for a private group for up to 10 people.
Rates for both types of accommodation include all meals, round trip airport transfers, in-roof Wi-Fi , cultural activities (such as the kava ceremony and cooking classes) and snorkeling, kayaking, and paddle boarding.
Other (paying) activities include diving, fishing charters, dolphin watching, waterfall tour, village visits (including church service) and a pearl farm tour.
Another nice touch is a welcoming foot massage given by Torika, also the yoga instructor and the resident philosopher. She uses a coconut oil/milk concoction with shreds of coconut which add a wonderful texture to her massage.
The food at Savasi is excellent. My opinion was shared by other guests. An American expat couple from Singapore (Neal and Jane) who stayed at Savasi for a week were very happy. Here were their comments: The food was superb. Gained weight, and we're both vegetarian. All  meals were Outstanding and varied. Service was superlative, and no doubt that's how they're ranked."
Moreover, they said that they both had an outstanding time as guests. Said Neal, "I'd be hard pressed for anyone not to be smitten. The villas were impeccable – spacious, clean, everything worked, quiet, private, all with exquisite views. The room crew were like church mice – never saw them but the rooms were made early and turned down without ever seeing anyone."
Rates begin at US$450 for a room on the Serenity and US$862 for a villa. Prices for two-room bures begin at US$1237.50
Where to Eat in Savusavu
Vanua Levu Accommodations–Near Labasa
Nukubati Island Resort
If you really, I mean really want to get off the beaten track, Nkomati (pronounced nook-ooM-bah-tee) may be your cup of tea. To get there, you'll need to take an hour long flight to the largest, most remote "metropolitan" area in Fiji—the dusty sugarcane town of Labasa. From there it's about an hour and a half by automobile down a dirt road through villages, cane fields, farm houses and even stands of pine until you reach a jetty, a long wooden structure extending out from the surrounding mangroves. 
Nukubati is just a few hundred meters off-shore from Vanua Levu. Aside from a hill, with a commanding view of the spectacular landscape, Nukubati is flat sand. The owners and workers have transformed the once sandy scrubland into a beautiful botanical garden.
Once ensconced on Nukubati you have no other option than to relax and of course, eat.
The breakfast selection includes traditional western fare, as well as fish. Lunch includes soup or salad, an entrée and dessert, and dinner includes an appetizer, a salad, an entrée and dessert. Local fresh fish from mahi mahi, to tuna, to ono to wahoo is, depending upon the day's catch, always available, as is crab and lobster. The property also has a good vegetarian selection, picking organic vegetables and fruit straight from the island's garden. While there is great formality by the waitresses in announcing the food as it is served, one can informally mix, add or delete choices from the menu.
If you decide to put down that novel for a while there are enough activities to make things interesting.
With the ocean at your feet, swimming or snorkeling is obligatory. You can walk, sail, visit a local village (off island), play tennis, volleyball, lounge on a sand bar in the middle of the ocean, and take photos.
For those wanting planned activities, and an itinerary that involves a non-stop "Go, Go, Go!" Nukubati is probably not for you, although at the end of such a hectic vacation you may wish you had gone to Nukubati instead. The resort makes no apologies; they declare on their website they are a "low to no-activity destination" where "simply lying under a coconut tree with a book" is activity and pleasure enough. Having tested their excellent hammocks (which, by the way are the easiest hammocks to get out of I've ever tried), I can assure you that such a statement is true.
The beach in front of each bure is "swimmable" at all times of day and night as there is no fringing reef, unlike many other properties in Fiji. However, on incoming tides, it is not safe to wade due to stingrays feeding in the sand. While I think this is a neat National Geographic fact, I was never sure what was an incoming or outgoing tide, so I never swam in front of my bure. However, there is a small coral reef right next to the landing where it is safe to wade at all times of day, but the corals and fish at this location are somewhat muted and the water is murky. If you want to snorkel and experience the splendor of Fiji's reefs, it is best to take a boat (for hire) further out towards thee reef.
In summary There is no "type" person that stays here. You can be single, involved, married, getting married, on honeymoon, divorced, or getting divorced – all are welcome. The only restriction is age, but even this is relaxed during select times of year when children under 12 are allowed. This is a great resort for unwinding. For those that need a break, a true vacation, this is the place to come. You will not need a vacation from your vacation after visiting Nukubati. Rest, relaxation, and enjoying Nukubati's view are what this resort is all about.
Dive Notes: Speaking of thee reef, Nukubati's great attraction is its accessibility to The Great Sea Reef. Known as the "Large Wall" in Fijian ("Cakaulevu"), the Great Sea Reef is the third largest barrier reef in the world, after Australia's Great Barrier Reef and Belize's Barrier Reef. Nukubati is the only resort with access to this reef. If you want to dive, snorkel, surf, or fish the Great Sea Reef, you must stay at Nukubati. For those seeking a unique, exclusive experience, large portions of this reef remain unexplored. If you're the adventurous type, you can request a dive on an unexplored section and if the site is worthy, you can name it.
Diving with Nukubati's crew is great. Every couple or single diver gets their own dive boat and master. If you do not have dive equipment, Nukubati's dive equipment is excellent and new. The resort does not believe in anchoring at a dive site, forcing a diver to swim back to a boat. Instead, the boat follows each diver's bubbles and is there to immediately pick up a diver upon surfacing. After sitting down from a great dive, the crew hands a diver a sandalwood or plumeria infused wash cloth to wipe away the salt, a towel, and refreshments. For those looking for the diving extras, Nitrox is not an available option nor are diving courses. If you are not a certified diver and you want to dive, you must get certified before coming to Nukubati.
Palmlea Farms Lodge & Bures
Palmlea Farms Lodge & Bures, located 18 minutes from Labasa Airport on the northern coast of Vanua Levu has been operating since 2007 successfully as an eco resort/farm stay.  The property has four villas, with another 4 newly constructed  Fijian bures.  New amenities such as a BBQ area with adjoining campsites (for tenting) are located in a garden setting near the pool and Lodge. (Tents are available for rental or bring your own).
What's different about Palmlea? – First off, it's is a working farm or in the words of the owner, Julie Smelser, an "eco agri-tourism resort that offers environmental and organic themes." It's also very much off the beaten path.
Overlooking the Great Sea Reef (the third longest continuous barrier reef system in the world) there are great seascapes and a private swimming beach a 20 minute kayak paddle away or just relax by the 25M lap pool. It has one and two bedroom bures furnished with queen or king-size beds, private bathrooms and verandas. The emphasis is on sustainable living, offering international cuisine that capitalizes on the fresh produce grown on the farm such as herbs and fresh vegetables and a variety of tastes: European, Fijian, Indian and vegetarian. All bread and desserts are baked fresh daily. Being close to the shore they always have fresh seafood.
Enjoy glorious sea vistas and unbelievable sunsets from the fully licenced Lodge where good WIFI is available. Typical menu items sound pretty good to me and include torta al testa, flat crusty Italian tile bread with melted cheese; bruschetta Italiano crusty, Italian bread slices rubbed with garlic, tomatoes, black olives, cracked pepper and fresh chopped farm grown basil; reef lobster seafood roll-ups, lobster and coral trout wrapped in pastry; fresh herbs, vegetables in a spicy lolo cream sauce and osso bucco, succulent lamb pieces prepared in a age old Italian tomato base sauce.
Other than eating, there's diving, hiking, snorkeling, fishing, sightseeing and interestingly enough, surfing. Joe and Julie can also set up a village visit to experience the traditional Fijian kava ceremony.
They have their own 20 ft boat to transport guests on snorkeling and fishing trips leaving from Palmlea's private jetty. Yachts and welcome and often seen anchored off the jetty.
I really enjoyed this property after a three day visit several years ago and can't recommend it enough. It's comfortable, quiet and has the tranquility of the ocean. Management is hospitable and the food is first rate.